So I have been MIA for almost a week now. I have been crazy busy!! Now I have to recap all that has happened in the last week, I will break it up into a few posts so I don't bore you to death... This post is all about my lovely Skype date with my wonderful Hubster! I sent him a webcam and mic/headset because where he is at didn't have any. He finally received them and we were able to catch each other online... I guess I should say he is lucky that I am such a light sleeper...
I have my FB set up to notify me via text message if anyone posts on my wall, sends me a message, or my hubby updates his status. He FB'd me about 3AM Saturday morning to wake up and get on skype... luckily I heard it! I jumped up and had to run downstairs to grab my laptop, crawled back into bed and logged into skype. My heart melted when this is what I saw...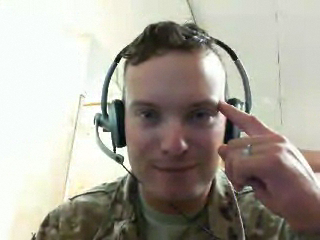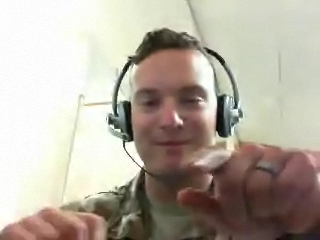 *Sigh* see what I mean? Those three pictures can get me through at LEAST another month ;). I do love him more than words can ever describe! I will keep trying to put it into words though! We are coming up on being married for 3 months, I can't believe it! It seems like just yesterday we were staying at the Guynes' house hanging out with Chloe and listening to the Tsunami sirens go off. Talk about scary and on top of that, not knowing if we would be able to be married the next afternoon on the beach like we were supposed to be!
I cannot wait until our next Skype date!
XOXO,