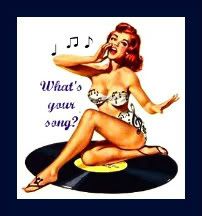 So for the first time I am linking up with
Goodnight Moon
for What's Your Song. My friend Jane at
A Few of my Favorite Things
has been participating and definitley got me interested this week when she posted a reggae song that triggered my memory of being in LOVE with the reggae stations in Hawaii...
So I found one of the Honolulu, HI Reggae stations that I listened to while I was in Hawaii before the hubby deployed on iHeartRadio! I have a feeling my battery is going to be SHOT from me playing Island 98.5 every chance I get!
I chose one of the songs that really stuck with me as MY song today!
I am not sure what it is about the Hawaiian Reggae music but it definitley puts me in a better mood! Maybe because it was the last music Hubby and I jammed out to before he deployed. The beats are so mellow and relaxing... I could probably go on and on and on but I will let you see for yourself by listening to my pick for today Kolohe Kai "This is the Life".
I have an amazing life! I have been blessed with a wonderful husband who is fighting for my freedom. He is my rock and even though we are thousands of miles apart for a year, he still provides for me in every way he can! I have THE life! This is THE Life and I wouldn't change a thing about it (other than having my Hubby out of harms way)!