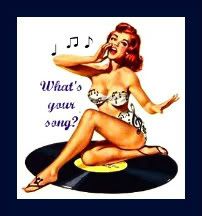 Wooohooo for Thursday! It's that time again... time to link up with
Goodnight Moon
for "What's YOUR Song?"

This week I needed a song that really lifts my spirits. It's been a rough two weeks with this deployment. The first time I heard this song I was riding in the car with my mom in NC a few weeks ago and I could not believe my ears... and that they were playing it on the radio!! It sent me into a sheer giggle fit, it's far too catchy to not like. This is one of the CDs I plan to send my Hubby because I know he will love it!
**Warning... it does have a slight undertone of raunchiness**



I hope you all have a wondeful Friday followed by a hopefully relaxing weekend!