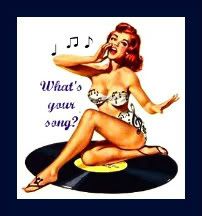 I have been missing in action for a little while, but I am back and on what better day than a Thursday! It's that time again... time to link up with
Goodnight Moon
for Thursday's What's YOUR Song?
When I work out I tend to listen to rock music... especially on my way to the gym because it gets me ready. So a few weeks ago I was on my way to the gym listening to a local rock station and I heard the song "Sail" by AWOLNATION. It's different and I really liked it so I chose it as my song this week. Enjoy!
I just love all of the instruments... the video is a little weird though.